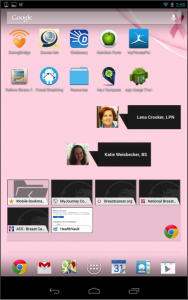 Health information management for cancer care is a challenging and personal process that changes over time based on one's needs, goals, and health status. While technologies supporting health information management appear promising, we do not fully understand how health information tools fit into patients' daily lives. To better understand the opportunities and usage barriers of these tools, we designed and deployed a mobile, tablet-based health management aid: MyJourney Compass.
Overview:
The My Journey Compass project examined the ability for existing mobile technology to support breast cancer patients. Existing patient-centered technologies demonstrate great promise for users, however they often focus on solitary moments or singular tasks within a broader healthcare journey. We utilized a technology probe to investigate how patients managing long-term diseases use flexible health tools throughout their health journeys. We developed mobile tablets for breast cancer patients that were customizable, integrated into patients' existing healthcare system, and included a suite of health, communication, and entertainment resources. Over the course of a year, the tablets were deployed to newly diagnosed breast cancer patients. The results of this research include design guidelines for future mobile health tools, specifically highlighting the importance of customization and personalization in patient-centric interventions.
Tablet Design and Research in the Wild:
The MyJourney Compass tablet consists of a suite of useful applications and resources specifically selected to support breast cancer patients in the cancer journey. To assemble these resources, we collaborated with health professionals in the Rome, GA community, including oncologists, cancer navigators, breast cancer survivors, and directors from two local cancer care centers.
Every individual diagnosed with breast cancer in the Rome GA cancer care system during the study period was offered the opportunity to participate in our research efforts. Our 36 participants used the tablets for a collective 2,316 hours. 14 participants have continued to use My Journey Compass after
completing active treatment. Participant interviews and analysis of tablet usage data have provided insight into opportunities for enhancing the technological support available to patients, including the value of integrating health and personal resources for encouraging long-term engagement with health tools. For more information regarding the contributions of this work, please see the publications listed below.
This work was funded by the Georgia Department of Community Health.