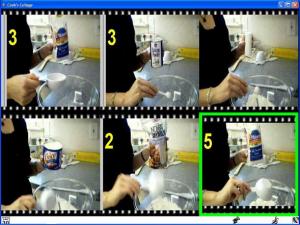 Cooking is a physical activity that is subject to distractions and interruptions. Mistakes are costly but, for the most part, are not life-threatening. The process is made up of specific activities (e.g. add a cup of flour) but rote cooking from a recipe is not the norm. Hence a predictive system (e.g. "next do this") could often be wrong, but a capture system (e.g. "here's what you've been doing") could aid a cook in remembering specific past actions.
The cook's collage provides a visual summary of recent cooking activity along a kitchen countertop. The current design emphasizes the temporal order of cooking events. Visual snapshots are arranged as a series of panels similar to a comic strip, ending with the most recent action in a highlighted (green) border. Repeated steps are annotated with their corresponding number count and preceded with slim vertical gray bars (i.e. visual ellipses). Figure 1 shows a screenshot of the cook's collage display as a cook prepares a punch recipe.
Using a "wizard-of-oz" technique, a human operator simulates the intelligence for the cook's collage system by hand picking images from the streaming live video feed as shown in figure 2. We transfer the wizard experiences to later automate this tracking procedure.