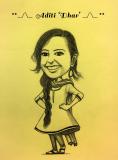 A zealous and compassionate individual, I dream of creating a difference in this world by the virtue of my work. By nature, I am dedicated and diligent and love to keep myself busy! Everything about the user fascinates me and that is how I fell in love with UX.
Presently, I am a graduate student at Georgia Tech in the MS HCI program with a practically vertical learning curve. I am working on projects that inspire me, learning things daily that intellectually stimulate me, meeting talented people that make for interesting conversations and study in classes that teach me something new every single day!
I have been working with Maia and Beth on the MyPath project (an initiative to help support chronic healthcare journeys) as a UX Designer for a little over a year now and learnt so much in the process! I am also working on my Masters project with them and my focus is on creating a user-centered patient monitoring dashboard for cancer navigators. It is an interesting implementation of all that we have learned from MyPath coupled together with the idea of connecting together this ecosystem in the realm of breast cancer.